Instagram Shopping is a game changing in social selling. Even if you don't know what it is, if you use social media, you have certainly been impacted by it.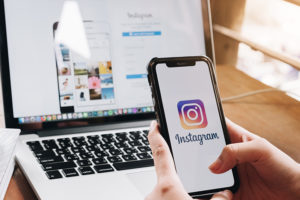 Social selling is a sales model based on the use of social media for the interaction of brands with potential customers to carry out branding actions and generate credibility and trust. The ultimate goal of all this is, in fact, conversion.
Recently, Facebook (company that owns Instagram) took that digital marketing strategy to another level by creating Instagram Shopping.
In this post, we'll talk about:
What is social selling?
What is Instagram Shopping?
Why should I use Instagram Shopping?
How to create a store on Instagram Shopping?
What is social selling?
Social selling can be defined as the creation and maintenance of relationships through social media, which will favour the sales efforts of brands.
Social selling takes place on all social medias that allow commercial profiles, such as Facebook, Instagram, Twitter, LinkedIn, TikTok etc.
Social media impact brand sales in several stages: from building recognition (at the top of sales funnel) to concluding the sale and obtaining recommendations (at the bottom).
In building awareness, for example, many companies use social media to find their potential buyers and influencers in the sector, expand the reach of their content and promote content with paid ads.
In the next step, lead generation, social medias can contribute by generating traffic to a website and landing pages. In qualifying leads, social medias can also support the sales strategy by building a more detailed profile of the prospect.
Finally, after the sale is completed, social medias continue to support the process through interactions and recommendations made by buyers in brands' profiles.
What is Instagram Shopping?
A feature added to Instagram boosted social selling within the platform. Through Instagram Shopping, companies can create stores within their own social media.
Brands can register their products and mark items in posts and stories, directing users interested to your ecommerce or to purchase on Instagram itself.
The photos are usually posted by the companies, which mark the products. The marked items receive a tag (like the one in the photo below), with the name and value of the product.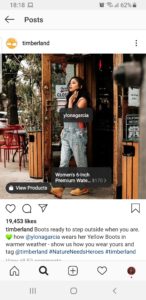 When clicking on the tags, the user is directed to an environment within Instagram, with more photos of the item:
In the main feed of stores, you can see between the tabs one that is directed to Instagram Shopping, with the icon of a shopping bag.
By clicking on this icon, users will see all posts that have product tags, forming a store. This makes it easier to find products for sale on Instagram.
On this page, it is possible to insert a link directing the user to the company's website or to place a checkout button, without going to any other page.
This option allows the purchase to be completed within Instagram, further optimizing the process and facilitating online sales to small businesses that do not have a website.
Also read: How to create a catalog on WhatsApp Business
To use Instagram Shopping, you need to:
Have a business account on Instagram connected to a Facebook page;
The company must be from one of the 46 countries

where the functionality is available (Brazil, Ireland and Portugal are on the list);

Only stores that sell products (material goods) are accepted, not services;
The store must comply with Instagram's commercial policies.
Why should I use Instagram Shopping?
The great advantage of this feature is that it is not only another information function, but a small store within Instagram where sales can be made.
Instagram Shopping also benefits small entrepreneurs, especially those who do not have a website.
Influencers can use product tags in their posts and, thus, direct their followers to buy these products.
Facilitation of purchase, which becomes instantaneous, is a factor that generates more conversions.
Instagram Shopping is a safe tool, a big concern for those who buy online.
The platform allows you to perform checkout without risk to buyer's data.
If the brand has a website and wants to increase traffic, registering more products on Instagram Shopping can also be a solution. That's because the social media can be used as a showcase that attracts qualified audiences to your website.
In addition to increasing traffic, taking the potential customer to your brand's website can make them buy more items.
How to create a store on Instagram Shopping?
On the brand's Facebook profile, click on the "Store" tab;
Click on configure store;
Enter the store address;
Choose a currency for billing;
Access with the email used on Facebook;
Select the fees related to your location and finish;
Register the products.
Once these procedures are completed, your store will be reviewed by Instagram. This process can take a few days. You will be notified when it is completed.
After validating the items through the social media, the use of tags and the store tab will be enabled in the profile.
How to post
After a positive review, posting is very simple:
Choose the photo you want to post and follow the usual procedures;
In the same place where you mark people and places, the option to add the product tag will also appears;
Select the desired tag, insert the name, price and additional photos;
In stories, the process is also similar to what we are used to. After uploading the photo, the option "Product" will appear on the same icon where we insert gifs and stickers. Touch it and register the item with the main information.
In stories, the same rule for the use of links applies in other publications: only accounts with 10,000 followers or more can place links.
Activate Instagram Shopping in your account and good sales!
For more digital marketing tips follow us on Instagram and Facebook.