Even if your company still does not have a budget to invest in digital marketing, that doesn't mean that there are no ways to promote your business online… and for free! 😊
In fact, in the initial phase or in times of difficulty (and in all others) digital marketing is essential to promote products and services. A way to be noticed, remembered and accessed, to guarantee the visibility of your brand and sales to happen.
If you have already managed to separate some money to invest in it, that's great. The tips that we will give here will also be useful, as they are part of the first steps of this journey.
For those who have not yet reached this point, the Internet has several free digital marketing platforms and we will talk about some of them in this article.
Check out 5 ways to promote your business online for free:
1. Sign up for Google My Business and other listing services
Registering your business on Google My Business allows it to be more easily found on Google Search and displayed on Google Maps.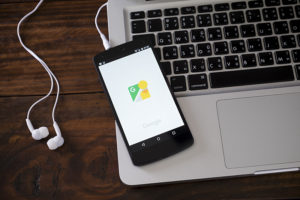 It is simple to sign up:
Go to google.com/business;
In "find and manage your business", type your company's name;
If the company appears on the search, click on its name, read the terms of service and privacy and click on "next";
If it doesn't appear, just register it. The process is the same.
Fill out the form with your business information;
Once this is done, wait for a verification code;
With it in hand, go back to google.com/business, click on "verify now" and enter the code.
That is it! Your business is already properly registered!
This means that your company information will appear on Google Search, as well as on Google Maps: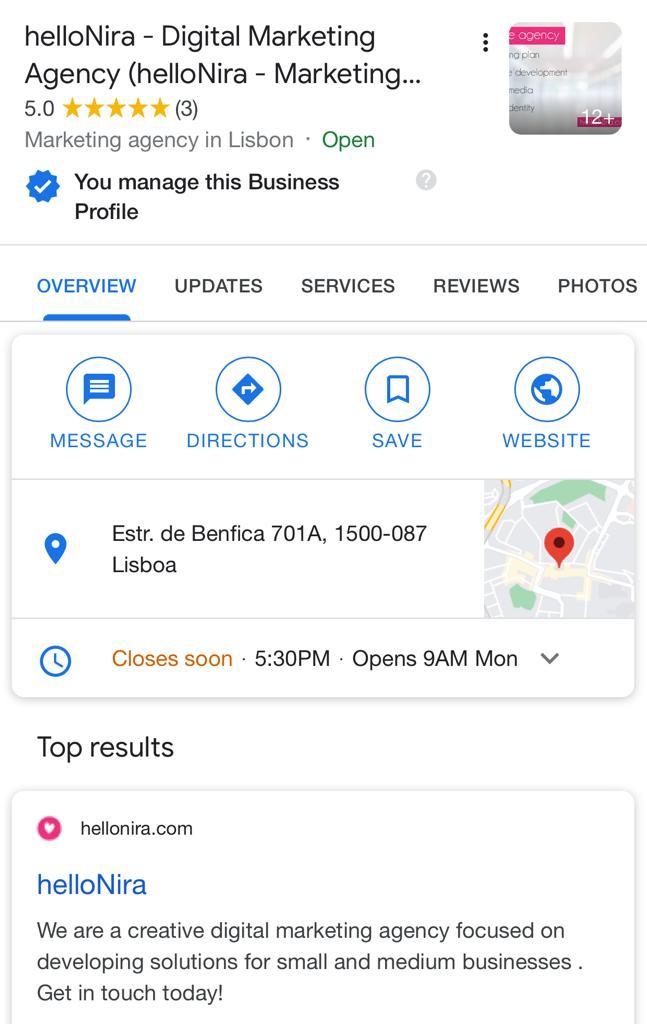 In addition to Google listing, other sites offer this service. Even though they appear to be old fashion and are not widely used, the information on other platforms is relevant to Google and other sites that use them. Therefore, it is worth signing up for the ones that are more relevant to your area of operation or to your company's field.
Here are some business listing sites that you may consider:
Such as Google My Business, registering on these sites is quick and practical. 😉
Like everything in digital marketing, as important as subscribing to the service, is to keep the information up to date. If the data is not consistent across all listings, your company may lose system reliability and relevance in search results.
Another important point for your business to be seen as serious and relevant is to optimize your profile with additional information and photos.
Many online directories allow anyone to add your company to the list. So, your business can be there even if you have not registered it. Make sure to claim your listings and monitor these sites frequently.
2. Use social media
Social media are an essential investment for any company!
They have become a relevant communication channel as they guarantee exposure, facilitate interaction with customers, offer the possibility to make paid advertisements, to follow what your competitors are doing, to make commercial and content partnerships, to observe your persona and keep an eye on their interests, networking, to organize and participate in events and forums, among other advantages.
+ Social media management: what happens when we work on it
Apart from the ads, all the examples mentioned can be done for free by the entrepreneur themself. Of course, hiring a social media expert is an asset to the company but until your day has come, you can/should start and take the chance.
The golden tip is: think strategically. There is no point in making random publications. They will give you a lot of work and take your time anyway, but they will not bring the expected results.
As for the other communication channels, find your persona, define a visual identity, goals and strategies, and then start posting. Monitoring results and constantly reviewing strategies are also crucial.
To decide which social media your company should be on, you need to know which social media make sense for your business. Facebook and Instagram, for example, cover the general public, being relevant to most companies. Pinterest, on the other hand, can be more interesting for e-commerce focused on the female audience, while LinkedIn is often useful to companies that offer corporate services. In fact, you need to find out where your audience is. To accomplish so, do tests.
The insights provided by the social media platforms themselves and benchmarking are valuable tools when deciding when and what to publish.
+ Instagram Shopping takes social selling to another level
3. Start a blog
Blogs not only help you promoting your products and services and connecting to your audience in a direct way but they are also relevant tools for optimizing your site in search engines.
Our post on SEO (Search Engine Optimization) will help you choose topics and keywords that are important for your business. Then, it is just to start producing content.
As we mentioned before, keeping the blog up to date and establishing a healthy frequency of publication is essential. A blog that is not often updated and that has only old information does not worth much.
Blog posts should aim to help your audience by presenting relevant information that they are looking for (just like this one 😏). If you have a hair salon, for example, you can make a gallery of trendy cuts for a certain type of hair, homemade hair care tips, how to protect scalp in summer, products you use in the salon, etc.
When producing useful content, your posts can be noticed by other trusted sites that will mention your content and share links to your blog, thus promoting your business.
Also use other communication channels to disseminate them, such as your social media profiles, newsletters and even download guides, as we have here on our website.
Ensuring accessibility and that the content is easy to read, using the language clearly and objectively, are also features valued by readers, as their experience is improved, and by search engines, which will take this information into account when ranking your business website on search results.
4. Run email marketing campaigns
Email marketing is an old strategy which has not become less effective over time.
According to data from Content Trends 2018, 44.3% of internet users say that they use marketing emails and newsletters to get information.
The content of these emails, just as it happens on social media and blogs, must be designed according to your audience preferences. The themes can even be addressed and deepened in each channel, which means that everything is connected. You can think of an agenda and break it down according to the format of each communication channel.
If you are able to periodically offer articles on subjects that interest your persona, you will strengthen your digital presence and your relationship with customers, potential customers and partners.
5. Request your clients to leave a review
It is very common for companies to remember to put customer reviews on their own websites and this is important. However, testimonials left on official platforms like Google, Facebook and TripAdvisor are even better.
Do you read customer reviews when choosing a hotel? In the descriptions and images provided by the companies themselves, everything looks beautiful but it is in the comments of customers that we can see if that service is what we are looking for or not, bringing trust to those who are deciding which service to hire or product to buy.
The listings (item 1 of this article) have technologies that help them to identify when it comes to false reviews or spam. The ratings on these lists convey trust and are an important ranking metric for search results.
As customers can write what they want, keep an eye on the comments and reply whenever you can. This is a way to promote your business and to reverse possible negative reviews. The way you respond to customers says a lot about your brand values ​​and gives potential customers an idea of ​​what it's like to do business with you.
We know that it is quite a lot to do and takes some time. Putting these activities on the agenda is not always an easy task but, believe me, it makes all the difference! Start slowly, according to your availability, and keep in mind that it is for a limited time until you can pay someone to do it all for you.
Acting on different fronts is a way to advertise your company and its products or services that impacts the decision of your target audience and can bring you excellent results.