Whether or not to be on social media is no longer an issue for at least the last five years. Now, the point is how to do strategic social media management, giving the right message to the people you want to reach, increasing the value of the brand and generating CONVERSIONS.
Social medias help us to maintain a dialogue with the public, serve as a showcase for the products and services we offer, convey professionalism and credibility and facilitate the location of your business by people who didn't know you yet.
All of this or exactly the opposite!
Because of that and other reasons, we can claim that a proper social media management is an efficient way to capture leads and sell.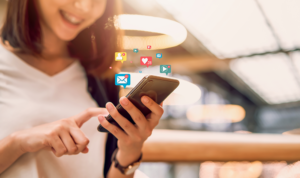 In understanding this process, we come across several concepts and terms that may not be very clear to business owners. So, let's start clarifying some of them…
Engagement
This word is always present when it comes to social media. Do you know what it means?
Engagement is the level of involvement and interaction that people have with your brand. Engagement is measured through comments, shares and likes that a page receives on social networks.
+ engaged people = + business opportunities $
Reach
Here is another very common term in digital marketing. On social media, reach refers to the number of people who see the content on your page.
There are two types of reach: organic and paid. While the first concerns the number of people who saw your content without you having to pay for it, the second is based on who saw the content only because you promoted the post or made an advertisement.
As they are targeted, Social Ads reach the audience that your page needs, with a low investment.
Impressions
Reach and impressions are subjects of constant confusion when analyzing metrics.
For social media management, impressions refer to the number of times that a certain content has been shown to someone. The same follower can see a content several times.
The impression is counted when the user sees the content. He/she doesn't need to, necessary, interact with it in any way.
It may seem pointless to show the same post to the same person more than once, but it isn't. This helps to fix your brand and what you have to say, however the person chooses to ignore that content at that moment.
Number of followers
Having a good number of followers in your business profiles is a way to ensure that your content will be delivered to more people. Of course, the ideal here isn't to be any follower, but those who are interested in your content, brand and product or service.
Going back a little to the previous items, to give you an idea of the impact of the number of fans, the organic reach of a Facebook fan page, for example, is less than 2% of its followers. This means that on a page with 1,000 fans, only 20 people view the content.
Social media management
Social media management is optimize the use of social media channels in order to bring results to your business.
Remembering: results are not only sales. At certain stages of the business, the important thing is to become known; in others, it's associating with certain themes and adding value to the brand; while there're times when the focus is on selling.
Social media management begins with the definition of a positioning strategy, going through the planning of posts and production of content, until results monitoring.
For efficient management of your social medias, try to hold back the anxiety of start posting, and define:
"Who" do you want to reach? What's your target audience? Create personas and describe them in detail.
"Where" are those people you want to reach? Being on the most appropriate platform is essential.
Facebook, Instagram, Twitter, YouTube, LinkedIn, Tik Tok, Pinterest… the possibilities are many. Maybe you should be on all social medias, or none.
There's no single strategy, as each business is different and has different audience and goals.
Start by understanding where your target audience is. And then, define which social medias your brand should be on.
"How"? It is needed to define a position, use the appropriate language, choose the best days and hours to post.
To achieve the desired results on social media, you must have consistency and frequency in publications. Making a post today and another in 15 days isn't an efficient way to reach the public.
Consumers are increasingly demanding and seek for information about almost everything they need on social media.
However, that doesn't mean that you have to post every day. Establish a frequency that meets the needs of your customers is essential. Creating a publication calendar is a good help in this process.
"What" will be published? Focus on the interests of your target audience, give them the type of content they want to consume.
Whatever your strategy is, always remember: CONTENT IS KING. This is one of the mottos of marketing. It means that it isn't possible to impact the public without producing content of interest and quality.
Use social media to give what your clients want to read, conveying credibility. Filling your feed with direct offers, for example, isn't a good alternative for keeping your audience engaged.
Answering those questions can save you a lot of time and money.
With a good management of social networks, you'll be prepared to meet the demands of the public according to the peculiarities of each platforms on which you decided to be present.
Interaction
Social medias are excellent platforms for interacting directly with the customer, but they can also ruin your business reputation. While satisfied customers leave their positive reviews and comments, dissatisfied ones do too.
Deleting or ignoring negative reviews is out of the question. The ideal is to listen to the customer and give an adequate response to him/her, reversing the situation. In such cases, avoid prompt and generic responses.
The other comments may also deserve an answer, or at least a "like". In addition to increasing page engagement, it shows that you care and keep an eye on what your follower says.
Make your customer feel like they're interacting with a friend, not a company.
Monitoring
The interaction includes monitoring social networks, which is nothing more than following what people say about your business outside your page.
An efficient way is to search for your company and for terms related to your business. If you don't find anything directly about your brand, at least, you will get to know your competitors and the market.
There are several tools that do this job for you, Google Alerts is one of them.
Also read: Women in digital marketing: why it is worth investing
Results tracking
Marketing isn't a shot in the dark. After everything is published, it's time to measure the results and know if your decisions were correct or need to be reviewed to reach your goals.
By tracking the results, you determine the ROI (Return on Investment) and decide whether you are using your resources in the best way.
Social medias platforms in general offer a tracking of engagement, impressions, reach, and number of followers.
If you use programs for scheduling posts, this task can be easier. There are platforms that gather all your social media profiles and do an analysis of the data, informing you, for example, which is the best type of publication (images or videos), best time to post etc.
Being present where your customer goes is a must. Providing quality and interesting content is one of the most embracing and economical ways to stay alive and present in their lives.
And that's why social media management is so important!
As social medias are a relevant part of your business, with wide reach and that brings many possibilities, having specialized professionals for the management of these platforms is essential to guarantee positive results.