Did you know that WhatsApp Business allows you to create a product catalog within the app? The feature makes it easier to send information about products and services offered by your company during conversations with clients and future clients on the application. And it is free!
After registering the catalog on WhatsApp Business, you can send an image of the product or service, description with a link to your reservation system or online shop and prices during your conversations.
It is not possible yet to make transactions directly through WhatsApp Business. The catalog serves as a showcase, which can take customers to your online shop, for example.
Knowing that many companies (like us and our clients) communicate mostly via WhatsApp, we made a tutorial to help you create and use the WhatsApp Business catalog.
The feature is available for iPhone (iOS) and Android. The prints below were made on an iPhone, but it also applies to those who use other mobiles.
Check it out:
Tutorial to create a catalog product on WhatsApp Business
1. Make sure you have the latest version of WhatsApp Business installed on your phone;
2. Open the app, click on "Settings" (or the 3 dots in the upper right corner if you have Android), and then in "Settings> Business Settings";
3. Click on "Catalog" and "Add product or service";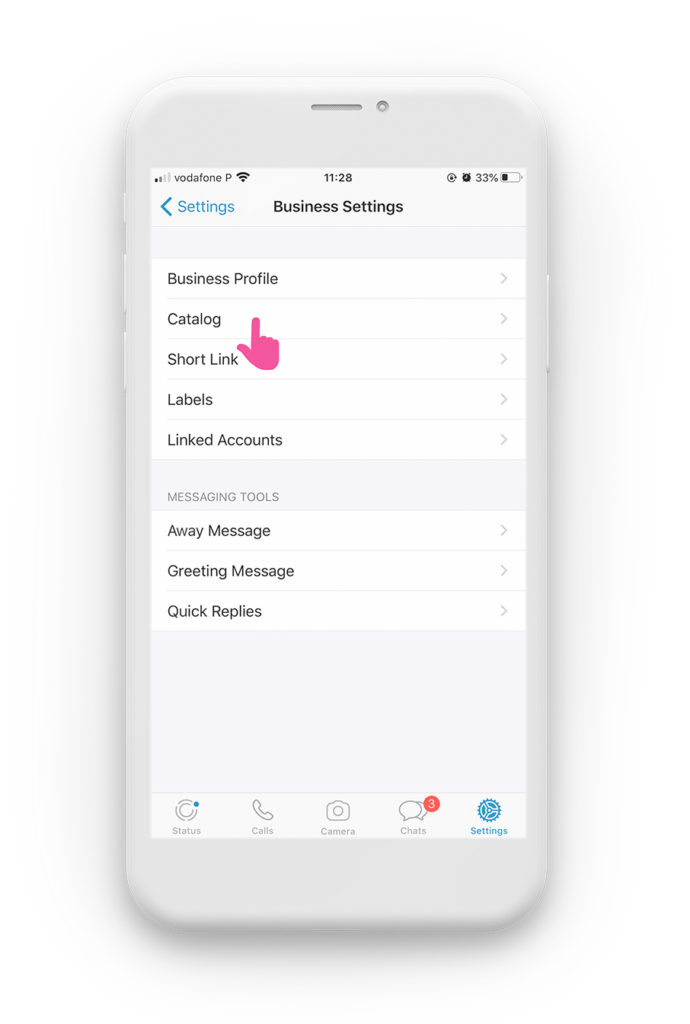 4. Insert one or more photos, name and price. By clicking on "More fields", the options "Description", "Link" and "Product or service code" will appear. After filling in all the information you want to disclose about your product or service, click on "Save";
5. Back to the catalog's home screen, just tap "+" and repeat the procedure for each item you want to register.
Done! Your product catalog is already registered on WhatsApp Business.
You can now share information about the products and services your company offer during a conversation. Just press the clip icon and the "Catalog" option. Then, select the desired items and send. This feature is not available via WhatsApp Web.
Good Business!